The rates listed below are per person based on either double or single occupancy and inclusive of: accommodation, full board meals and local taxes & miscellaneous government fees.
Resort packages start every Saturday and are available in 5, 7, 12 or 14 night stays. Custom packages may be available, contact us for a quote.
All rates are in US$ and based on either double or single occupancy. All rates are inclusive taxes. A minimum stay of 5 nights is required.
Maximum Room Occupancy
Triple Occupancy is available for sharing with children only
Please note that all additional activities and services, not stated in the above, including soft drinks, alcoholic beverages, coffee from our signature coffee machine, scheduled airport transfers by car & boat, boat excursions for diving, snorkelling and whale & dolphin watching, spa treatments, boutique purchases, are available at additional charges.
Rates

Marine Life Experiences Packages
Scuba Diving: Scuba diving trips are for either 1 or 2 boat dives (2 dive trips have surface interval and snack on the boat) and include standard 12L air tanks or Nitrox 32% tanks for Nitrox certified divers and diving weights.
Not included are: private dive guide or private boat (subject to availability), rental scuba diving equipment, 15L tank upgrade.
Snorkelling boat trips are a half-day trip to visit one or various locations throughout the area for shallow coral reef snorkelling. This trip is pre-scheduled each day for morning or afternoon based on tidal & weather conditions and guests request.
Not included are: private snorkelling guide, private boat (subject to availability) or rental snorkelling equipment.
The rates are in US$ and based per person. All guests participating in marine life experience activities by boat will be asked to pay a park entrance fee, payable at the resort at the end of the stay.
Not easy to get to but even harder to leave.
We are located just above the southwestern tip of the island of Alor, part of the eastern chain of Lesser Sunda Islands. As no road, other than a bumpy dirt track, leads to the remote off-grid southern part of the island, your only way to get to us is by our comfortable catamaran. After a short car ride from the airport to the harbour you will enjoy a panoramic and comfortable 45-minute boat journey to SAVU. Our arrival day is Saturday and departure is possible either on Thursdays or Saturdays.

Your final flight destination is Alor Mali Airport (ARD). The airport is small, and all incoming and outgoing flights are thus via Kupang El Tari Airport (KOE). The most popular international gateways to Indonesia are Denpasar Bali (DPS) and Jakarta (JKT). From one of these airports it will take you 2 more flights until you reach your final destination Alor.
We are most happy to help if you need any assistance with your flight itinerary.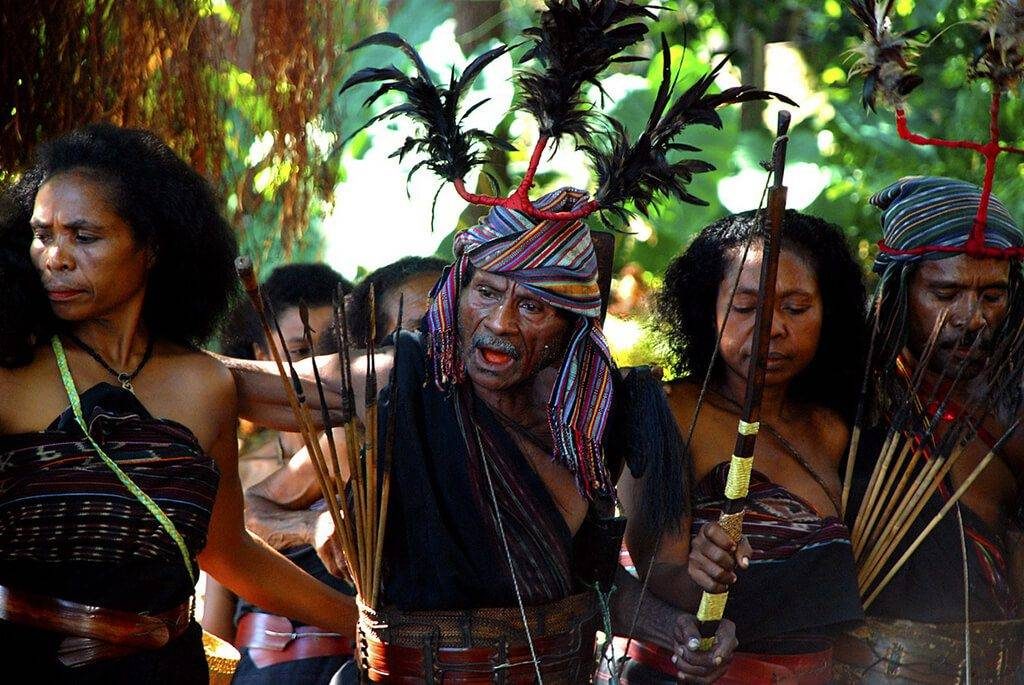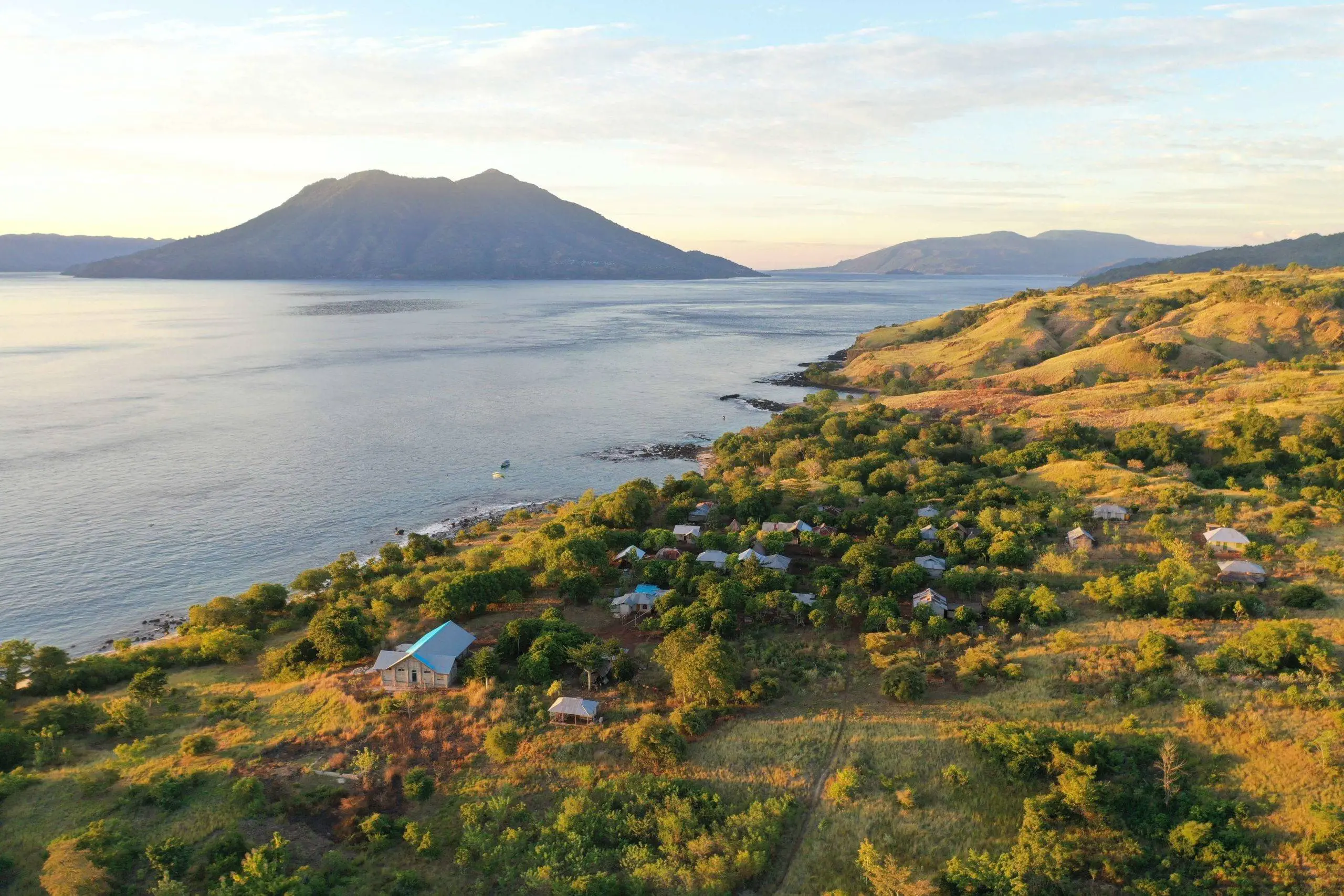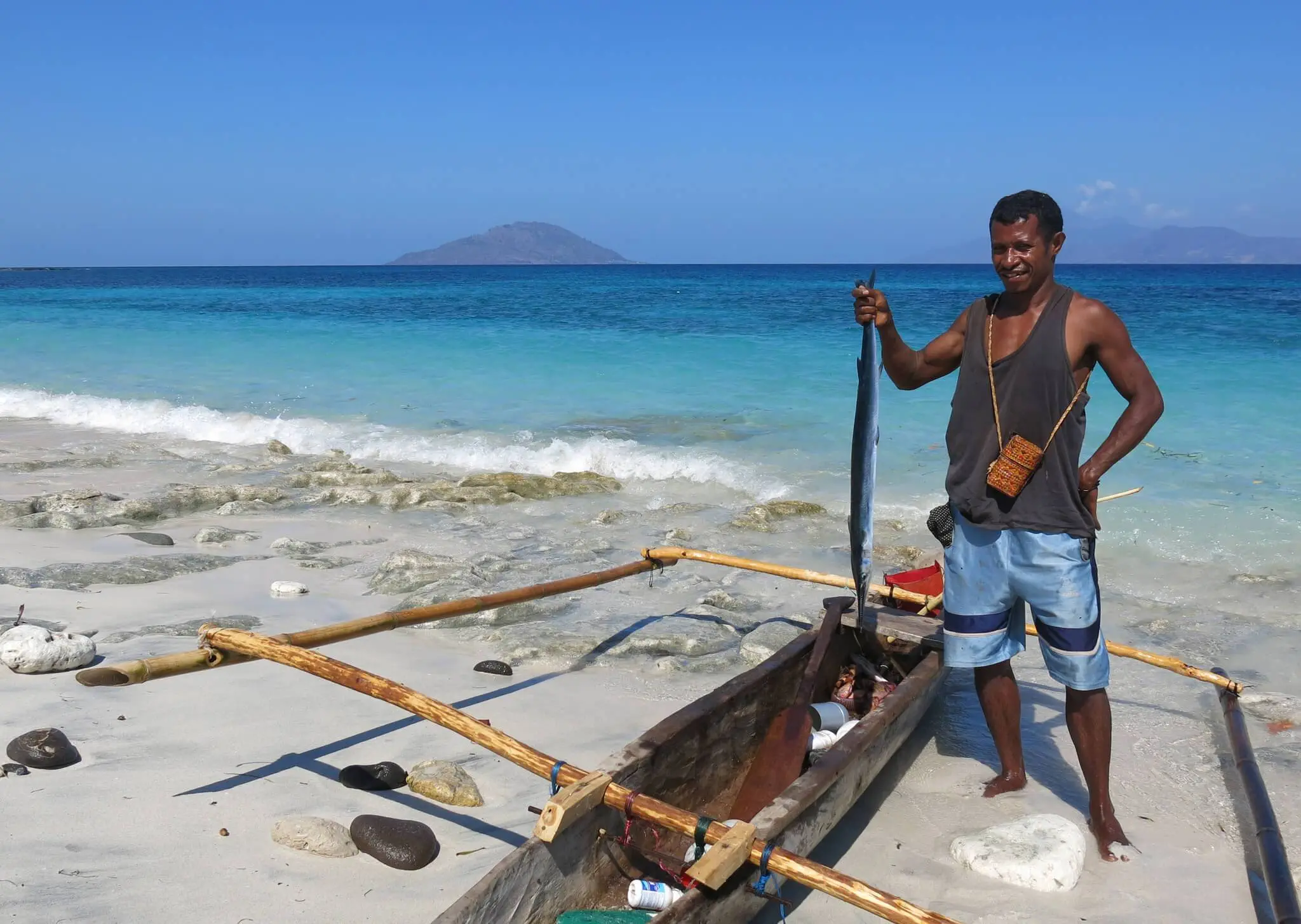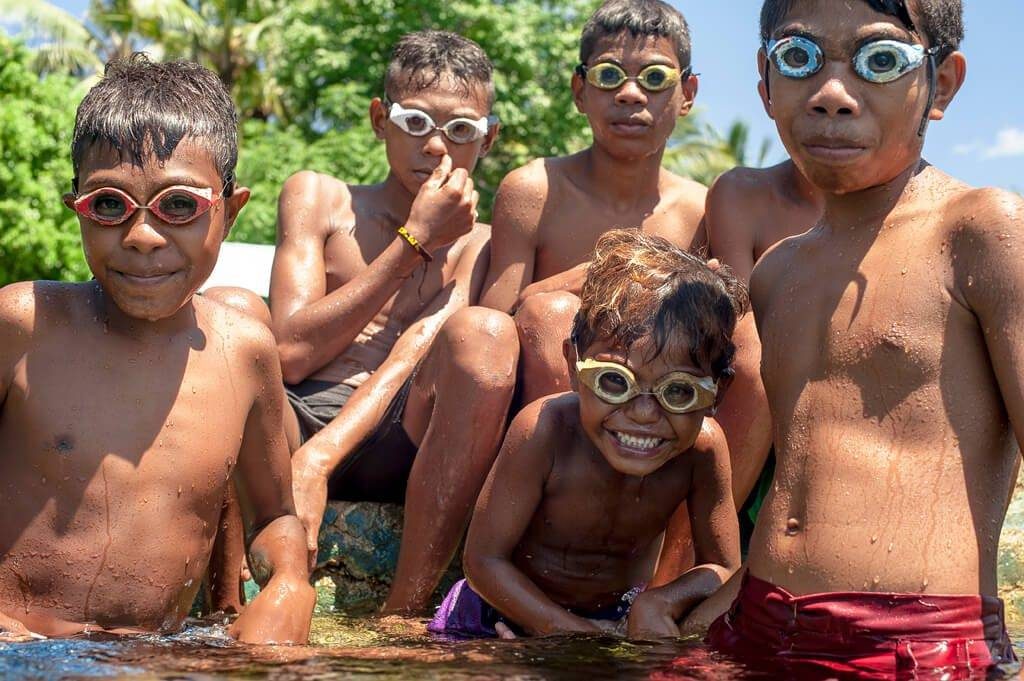 Explore the unseen. Off the beaten track.
Alor is located in the province of Nusa Tenggara Timor, 1000 km due east of Bali. Alor is a name pinned to the regency, the archipelago, as well as the main island of the archipelago. Despite of its short name, the Alor islands hide a long list of splendours, from fascinating underwater wonders up to the unique culture of their indigenous tribes.
The Alor achipelago is of volcanic origin and has very rugged terrain. These small, remarkably beautiful islands, dominated by jagged mountains and steep valleys, have divided the archipelago into many district groups, all speaking their own languages or dialects. The majority of the population in Alor are Christians and even the smallest village has its own church which is usually also the grandest and most impressive building of the hamlet. People live their simple lifes and practice mainly subsistence agriculture and fishery. The fishermen still catch fish in the traditional way with their homemade goggles fashioned from wood, glas bottles and bee wax, hand-made spears and traditional bamboo fishing traps, called bubu, that are unique to Alor.
The Alor Archipelago is a dry region with only 3-4 months of rain every year. From April through December it is a dry climate with an average temperature of 28 C. This is also the best time to visit Alor. As water and sea conditions both topside and underwater are not as reliable in the rainy season months of January and February, we choose to close for our maintenance period at this time.