Welcome to Savu South Alor! The Alor archipelago consists of the main islands of Alor, Pantar, Kepa, Buaya, Ternate, Pura and Tereweng. It's a showcase of Mother Nature's finest work with stunning white sand beaches and pristine coral reefs. We are extremely proud to call this place home and to share with you some of the underwater highlights from the north of our region.
---
Introducing Scuba Diving Alor
Alor offers world class diving for all levels of divers. There are incredible sea mounts, walls, muck diving sites, coral gardens, sloping reefs and drop offs that are bursting with colour and teeming with life. Visibility can stretch to over 40 meters and pelagics are often spotted out in the blue while critters abound on the reefs.
Due to the vast size of the Alor Archipelago we generally divide it in two – the North and the South. While we are located in the impressive south of the region, here are some of the highlights from the north. The majority of these northern dive sites are located within the area that encompasses Alor, Pantar, Pura, Kepa, Ternate, and Crocodile Island. These sites offer prolific fish life and a healthy mix of vibrant hard and soft corals. These are among the best reefs in Indonesia in terms of sheer biomass and marine biodiversity.
Alor's nutrient-rich waters bring in pelagics including thresher, hammerhead and reef sharks, oceanic sunfish (mola), sperm whales, dolphin pods, eagle rays, and even orcas have been spotted. The Alor Archipelago is also part of the migration corridor for blue whales. These beautiful cetaceans pass through the region twice a year; from the end of May to the beginning of July and again from the end of September to the beginning of November.
Anything is possible here and there is still so much which has yet to be explored. Alor's reefs are home to over 1,000 species of reef fish and over 500 species of soft and hard corals. Once you take a look below the surface in Alor you'll be mesmerized by the underwater world around you.
Coming up are just a few of our favourite northern dives sites that we love to explore whenever we are scuba diving Alor. These sites are just a few out of many – all of our sites offer phenomenal marine life and underwater photography opportunities.
---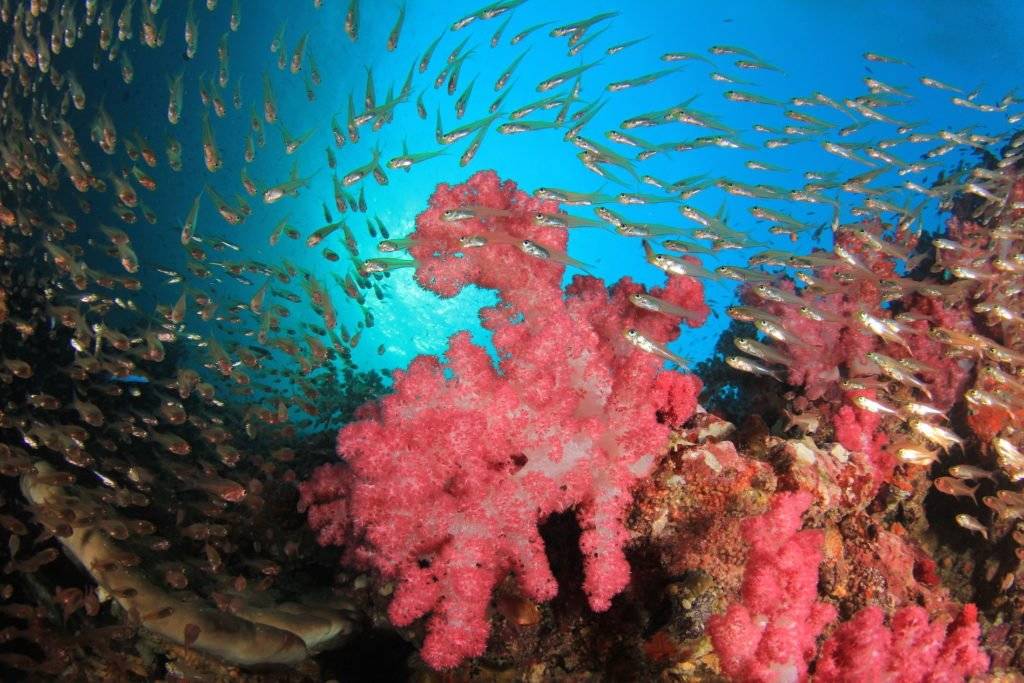 The Fish Bowl
The Fish Bowl is one site that certainly does live up to its name – abundant marine life, schooling fish, and a kaleidoscopic coral wall. When scuba diving Alor, this site is not to be missed!
This dive site is located off Alor Island to the North of the channel that separates Kepa and Alor. Depending on when we dive this site it can offer gentle conditions or be an exhilarating drift. The reef slopes down from 8 meters before giving way to a vertical wall which is separated into two different depth segments. The deeper wall is a vertical drop with a dense covering of short cropped hard corals, small barrels and a range of sponges. Neon fusiliers stream past in flowing ribbon-like formations in the blue along with lone titan triggerfish and midnight snappers. As you traverse onto the shallow wall look out for scorpion fish nestled down in the soft corals and oversized ribbon sweetlips taking shelter. The slope is a good mix of soft and hard corals of intense density and color. Schooling fairy basslets, blue yellow damsels, red toothed triggerfish, Moorish idols, angelfish and butterflyfish are all abundant here.
This is an Alor dive site that clearly demonstrates just how alive a reef can be; there is a good chance of passing pelagics here but even in their absence this stands out as a top class site.
---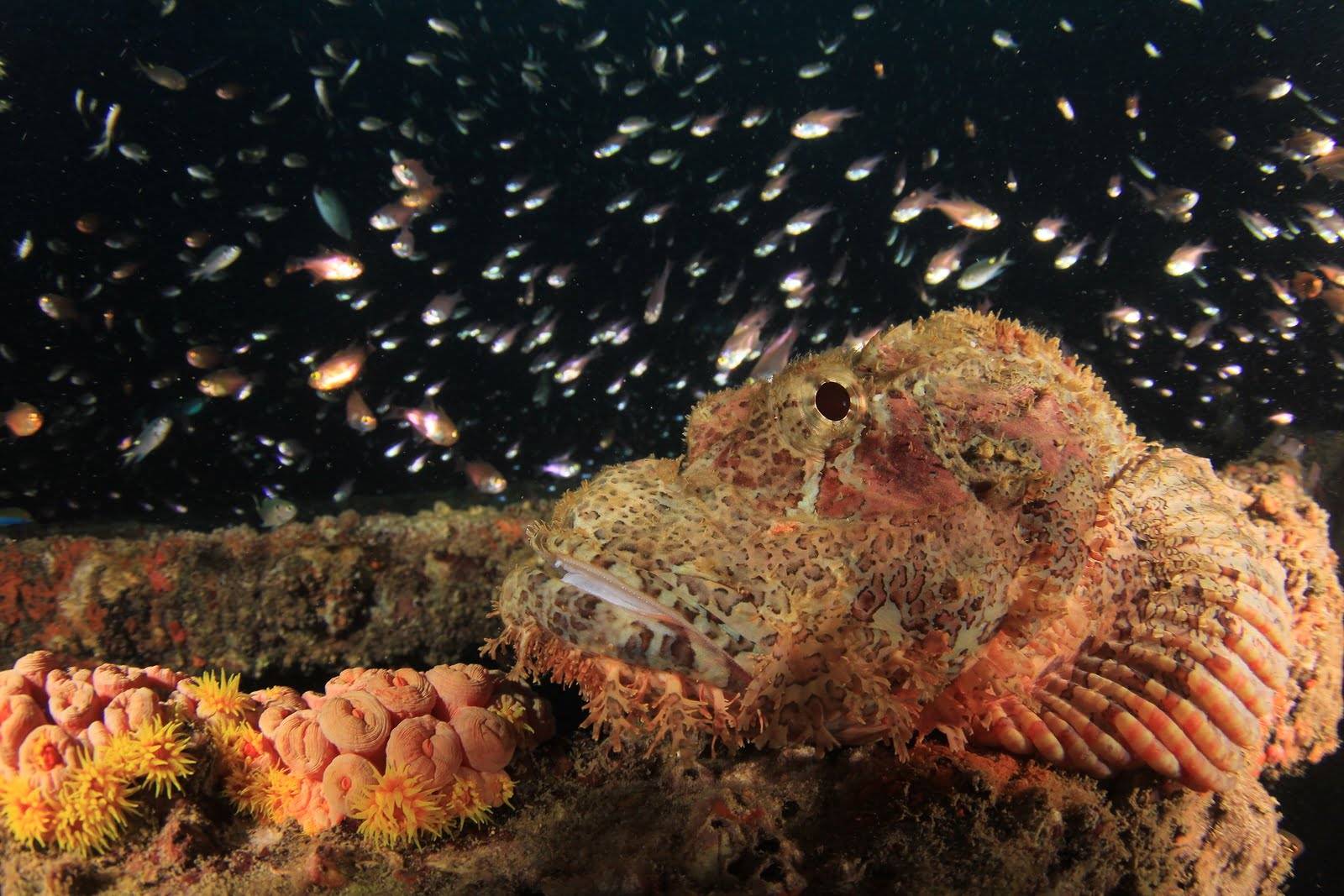 Kal's Dream
A sea mount located in between the islands of Kepa and Pura – this site is named after Indonesian diving pioneer Kal Muller who first explored Alor in the early 1990's. The schooling fish, passing large pelagics, sweeping currents and diversity of marine life that appealed to him back then continue to make this site a dream today.
This is a site for more experienced divers as the sea mount can be subject to strong currents sweeping over the top. The top of the sea mount peaks at 5 meters beneath the surface – which is perfect for safety stops at the end of our dives. When diving here, keep a look out to the blue; Spanish mackerel, various shark species, giant trevallies, dog tooth tuna, barracuda and schooling jacks are frequent visitors here. There is a 12 meter plateau around the southern tip of the pinnacle which makes an excellent area for observing hunting blue fin trevally as well as boasting some interesting critter life hiding in the crevices between the rocks – look out for a variety of moray eels, reef octopus, scorpionfish, nudibranch, and shrimps.
---
Mike's Delight
A sloping reef drift dive on the east coast of Pura Island featuring bommies, boulders, ledges, drop offs, and beautiful staghorn coral fields.
Visibility here can range up to 40 meters and the reef is bursting with life and color. Corals here are abundant and barrels, anemones, brain corals, branching corals and plate corals are interspersed with soft coral clusters.
Highlights of Mike's Delight include passing pelagics and even dolphin pods out in the blue. Common reef fish sightings here include parrotfish, sweetlips, angelfish, napoleon wrasse, yellow damsels, and schools of jacks sweeping past in the water column.
Overall this is a great dive site for variety, an abundance of fish, exceptional coral diversity, and potential pelagic sightings.
---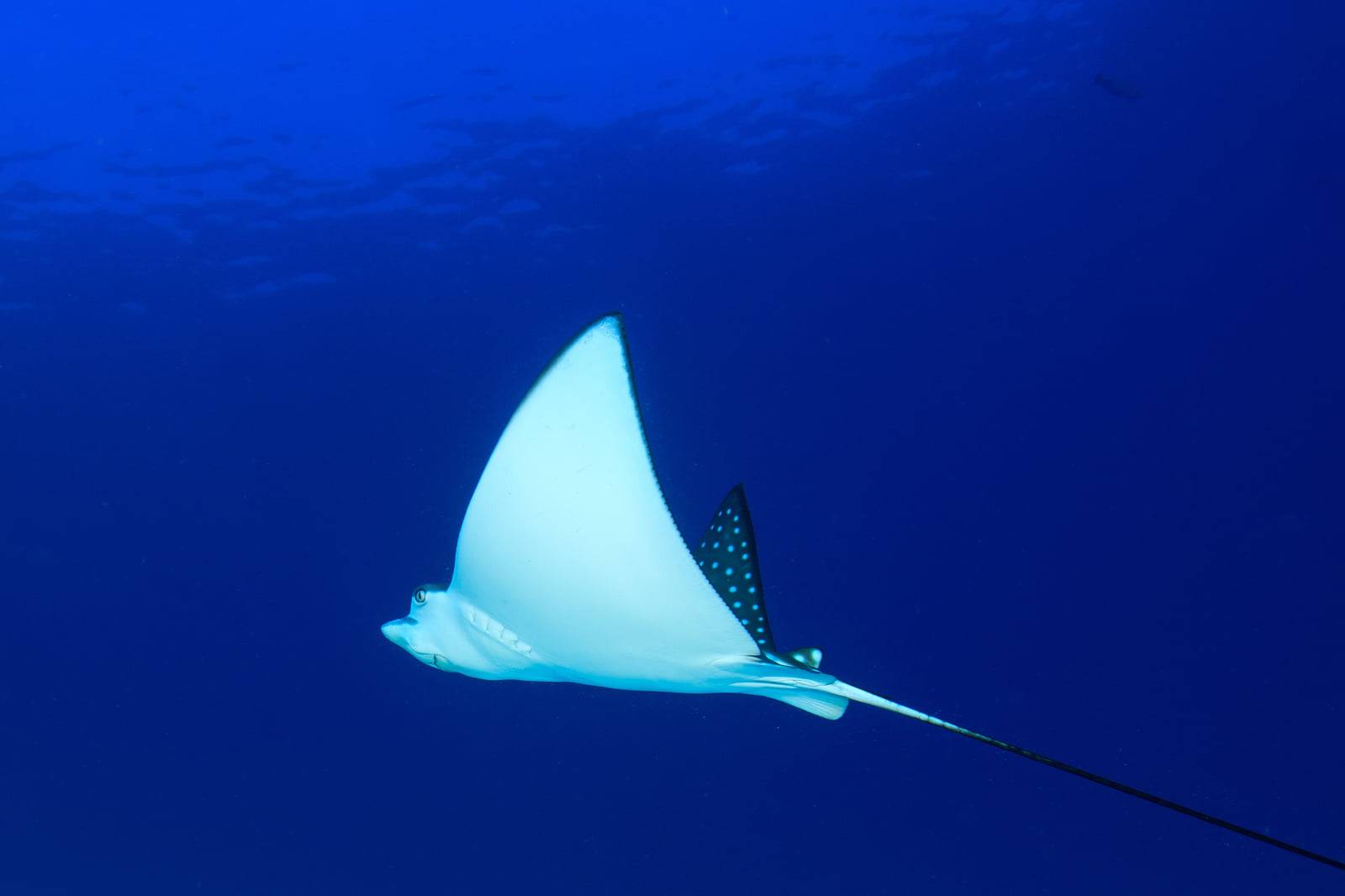 The Boardroom
Situated on the north west corner of Pura Island this is an exhilarating deep drift dive around a sloping ridge which extends west towards Pantar Island – a great site for reef sharks, eagle rays, schools of batfish and when dived at the right time, some adrenaline pumping currents.
The north side of the ridge boasts densely packed short cropped hard and soft corals, sea squirts bursting with color and barrel sponges that have grown with a permanent lean due to the prevailing current. Fish life is abundant with impressive biomass – schooling damsels swim with persistent determination in order to stay stationary over the reef whilst in the blue there is a carnival of color as neon fusiliers stream above cruising batfish, yellow back fusiliers intertwine in an upwards progression and midnight snappers hover close to the reef.
Keep a permanent eye out to the blue – you never know what will pass through and eagle rays are often spotted here. This is an exhilarating dive from start to finish.
---
The Great Wall of Pantar (AKA Bama Wall)
A picture-perfect slope and a deep wall drift dive with layers of overhangs, faults and inversions that leave you hanging in the blue with nothing below you aside from streaming, densely packed schools of fish. An upward glance is no less impressive as clouds of antheas, sergeant majors and damsels glimmer in the sun light overhead.
This site is located on the east coast of Pantar Island and offers phenomenal coral density which does not appear to peter out with depth. At 30 meters the coral coverage is still excellent with light rays filtering through and highlighting the barrels, sponges, soft tree corals and tubers which adorn every surface. At depth watch the blue for passing pelagics and numerous schools of fish that stream past as if on an aquatic expressway. The shallow waters offer conditions similar to that of a seriously over stocked aquarium with fish and corals glittering like jewels in a treasure trove. Sergeant majors cluster around the reef and numerous schools of sweepers, damsels, and basslets all move together with the synchronization of a well conducted orchestra – perhaps the reason why this site is also referred to as Symphony No.9.
---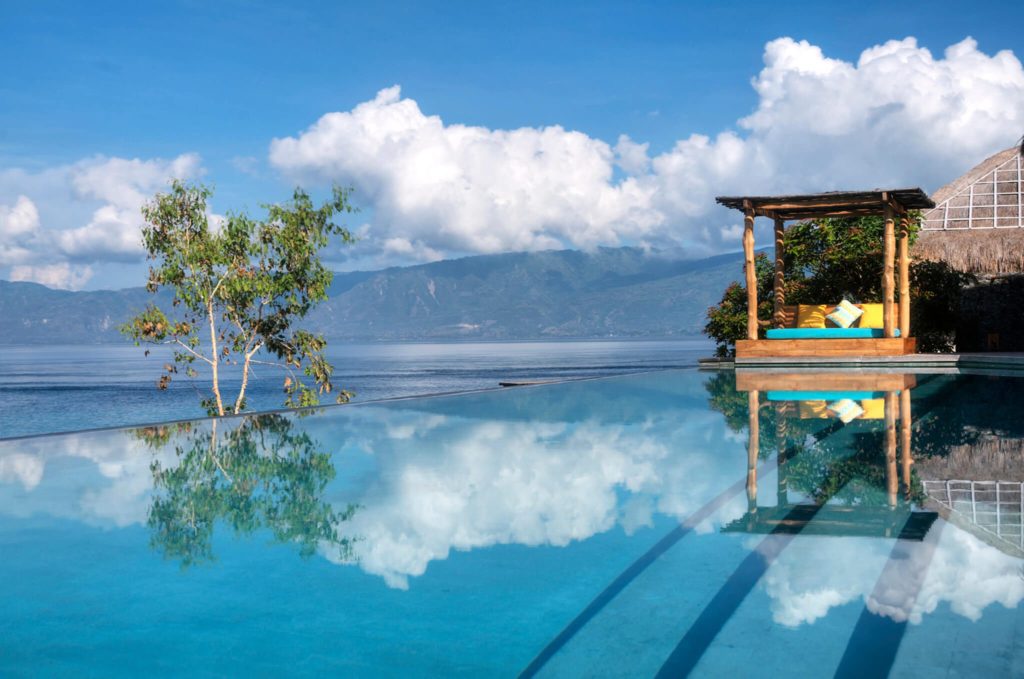 Book Your Stay and Alor Diving with Us
Are you feeling inspired to book your next diving holiday in Indonesia? Join us at our beautiful barefoot luxury resort in Alor. We offer personalized service and sustainable accommodation combined with years of experience in diving the Alor Archipelago. Our passion for the ocean is central to everything we do and we'd love to share that with you!
Interested in scuba diving Alor? To enquire about our rates and availability, or to book your Alor Archipelago scuba diving adventure with us please contact us at: info@savusouthalor.com or fill in our contact form.